Hi!
I'm still amazed by the massive value, great conversations & lots of fun we've had during the workshop!
And the formula of the workshop proved itself right.
We ran overtime, but we enjoyed it a lot — and the possibility to get instant feedback was one of the most valuable things for the workshop participants.
I hope you'll enjoy it too 🙂
So here's the replay: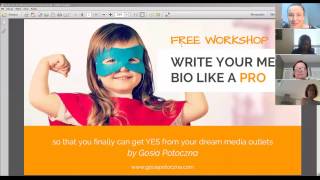 I've cut the chit chat at the beginning, so you can go straight to the main course :).
And here you can download your copy of the workbook:
Get Access to the Workbook
It's GoogleDocs document, so you can just make a copy and get your own best media bio done :).
xoxo Gosia